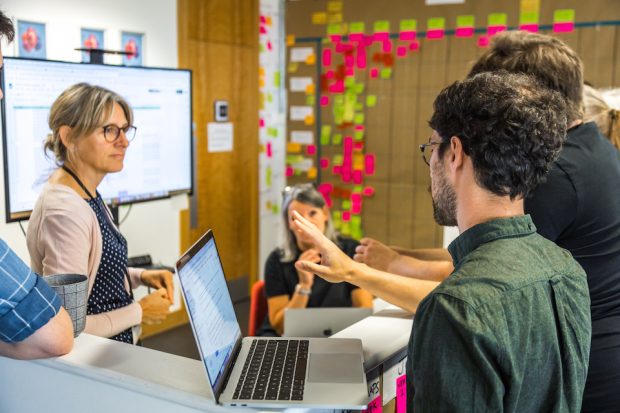 Content Design team meeting at the office (August 2019)
If an object is easy to handle and helps you do things, it's often thought of as well-designed. You barely notice you're using it.
Similarly, information that's easy to understand and helps you complete a task is also considered well-designed. You barely notice the information: you just know what to do.
Well-designed information is formed by good content design principles and processes - a digital discipline we're committed to at the Department for Business and Trade (DBT).
Design thinking
Content design isn't just about copy-writing or editorial techniques applied to information, it's a way of thinking: design thinking.
And that thinking always starts with the question: 'what problem is the user is trying to solve?'
DBT's users are mostly businesses in the UK and abroad. They could be a small family-run business, or a multi-million-pound company. They could also be someone working for DBT in one of the UK's embassies.
As you might imagine, the problems they are trying to solve are varied. They could include:
understanding how they can become more competitive or compliant
discovering opportunities so they can expand their business abroad or in the UK
learning how to access the latest trade data that they need to support their embassy work.
Design decisions
By understanding the problems users are trying to solve, DBT's content designers can make informed decisions about:
what to publish and what not to publish
where to publish – should information form part of an interactive digital service, such as 'check how to export goods'?
when to publish – do people need this information now?
what words are understood by businesspeople – are these different from words the rest of us use?

how to 'tag' the information so that it can surface it where it's needed for specific audiences, such as in more personalised content 

or for specific digital services
Working with the other User-Centred-Design professions (User Research and Design) helps us work out the answer to these questions.
Design standards and structures
Content designers apply standards to the process of creating content as well as the output itself. As DBT begins to move into content operations, or ContentOps as it's known, codifying standards will be even more important. Think of this as a design system for content.
Standardisation of classifications, tagging and the structuring of content will help direct how content components can be fit for purpose across multiple contexts. It also helps when integrating content with data before it's delivered dynamically to users.
Other content standards and conventions that create efficiencies in production and ensure users' needs are met include:
setting what is a clear user need for content - and what is an edge case meaning web content probably isn't the best solution.
standardising vocabulary – so that the same thing is not referred to differently in different places causing confusion.
setting a timetable for reviewing published content on pages and in services to check it's still relevant and accurate.
working out the metrics we'll use to measure whether our content is doing its job of meeting users' needs and achieving government policy outcomes.
Design capability
DBT is a new department which means we have a "clean slate" to improve content design capabilities, processes, and standards, so that users can benefit from the knowledge the department holds.
In addition to creating and maintaining content, our content design team is also committed to training others and advocating for the discipline. In fact, you couldn't find a more enthusiastic bunch - and we're in a department with one of the most progressive content presences in government.
If you'd like to be part of our team, sign up to receive our job alerts.
If you're passionate about good design and the difference it can make, we'd love you to join us.