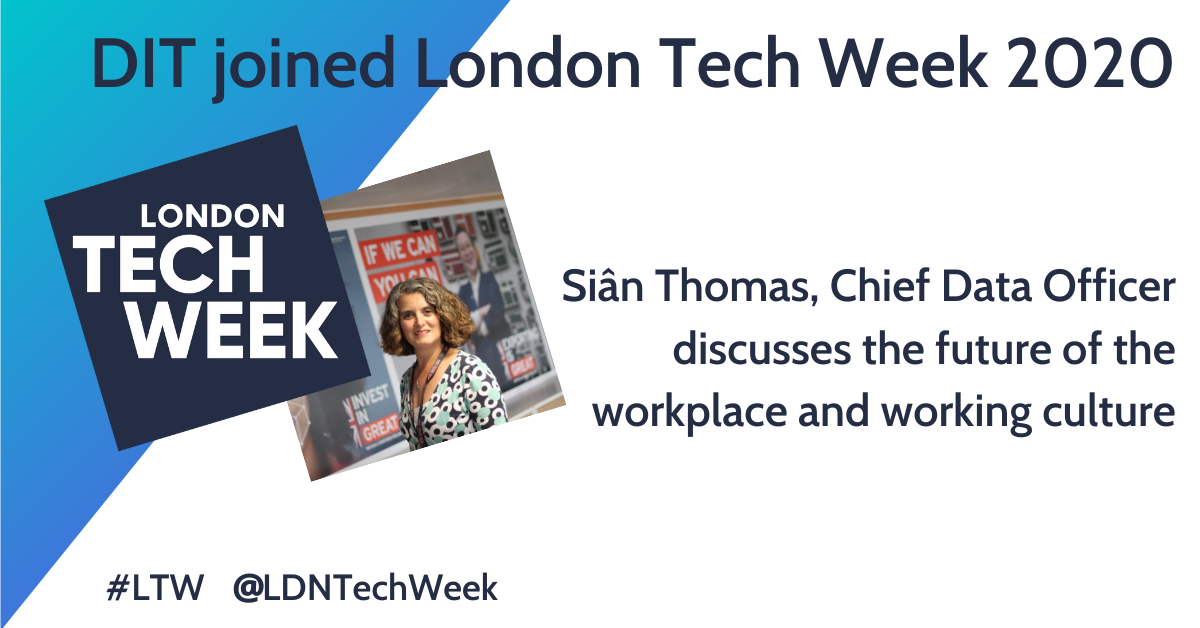 London Tech Week brings together leaders in technology to showcase the latest news, products and innovations. You can catch up with the panel online.
Supporting the digital workplace
Siân was invited to be part of the round table discussion titled 'Game-changer tech: the disrupters that will define the future of the workplace and working culture.' She was joined by moderator Row Knapp, Tech Nation; and fellow speakers Tariq Maonah, Legal and General; William Moxley, Ring Central; and Ryan McEleney, Webster Bank.
As our Chief Data Officer, Siân is part of the Digital, Data and Technology (DDaT) directorate, which embeds modern and innovative technology into everything that DIT does. It ensures that DIT can run effectively, efficiently, and securely in all circumstances. It also builds digital services that enable UK businesses to export, import, and generate investment.
Siân talked about the current and future digital landscape and how we are meeting the challenges of remote working. One significant example she gave was how DDaT deployed MS Teams to all DIT staff in just weeks, instead of the 6 months planned. This allowed our global teams to continue to work effectively remotely. Siân said that engagement across the organisation had improved, with people feeling more connected to their colleagues - even if they didn't usually work in the same office or country.
In DDaT, we are constantly looking to improve the user experience and our approach is iterative. As well as deploying ready-made technology, such as MS Teams, we build many of our services from scratch. Recently Siân's team released a new service, the UK Global Tariff, which displays the tariffs that will apply to goods imported into the UK from January 2021. After investigating user needs, we built the service as an open data set so the tariff data could be used and shared freely. The service was developed by a fully remote team, showing that even in challenging circumstances, we can continue to support businesses.
When enabling people through technology, it's also important to consider people's whole working lives. Siân stressed that DIT is mindful of flexible working patterns and colleagues' accessibility needs. She said that regardless of whether our users are internal or external, DDaT is committed to delivering digital, data and technology solutions that work for them.