We're just over halfway through our research into how digital services could help UK businesses export. Following GDS guidelines, this phase is known as Discovery, when you find out what your users need, what to measure and what your constraints are.
Our initial focus on small food and drink producers making their first export to the European Union has kept us busy. Now Christmas brings a chance to pause, and look back over what we've done so far. As well as plan our next steps.
Hearing from businesses
The export process can be complex and nuanced, depending on the business, product or service, country and so on. Approaching such a broad topic could be daunting. But not when you start with the user.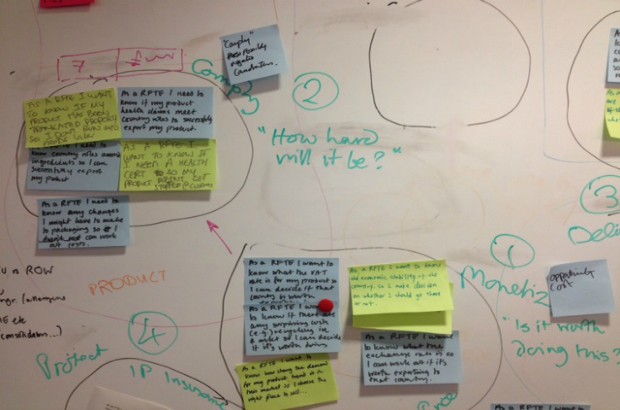 In the last two months we've:
talked to 35 businesses at innovation and export events in London and Manchester
conducted in-depth interviews with 9 small food and drink businesses in the early stages of selling abroad
analysed the reasons why businesses first get in touch with UKTI about export, through data from its relationship management system
studied results from the Small Business Survey 2014, carried out by the Department for Business, Innovation and Skills
Developing our idea
At every stage, we've used a sketch of our idea to get detailed feedback and insights from businesses. Their overwhelmingly positive responses have helped move our concept along, from:
a group of themes on a piece of paper
through a more tailored view of what online export help could look like
to a clickable online journey, providing a practical list of things you'd need to know to export to France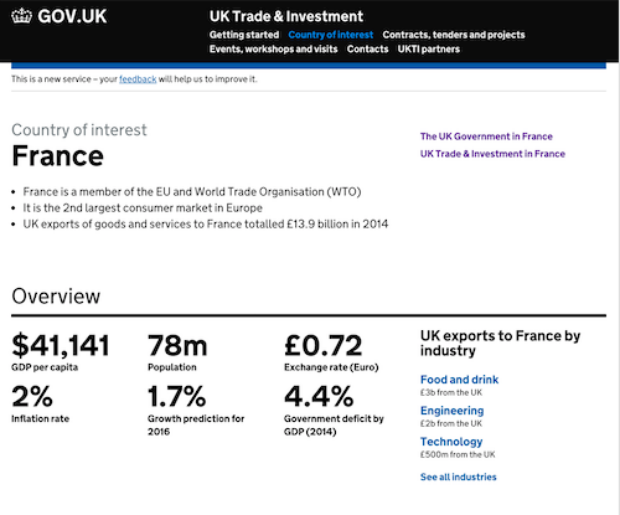 Over and over again, businesses have asked for a concise, digestible guide to the practicalities of entering a particular market. Those with any kind of web presence (from website to Instagram feeds) are inundated with requests for their products from overseas. Knowing how to handle these requests is a challenge. And many smaller companies find their own way, learning as they go, trying to balance risk with the opportunity to grow.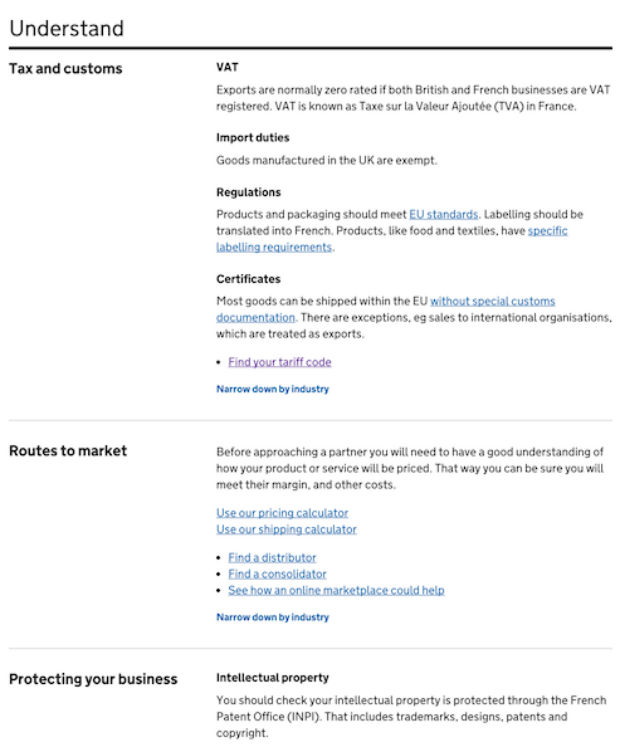 Learning from the advisors
We've also spoken to a range of UKTI export advisors.
Visits to regional offices in Bristol, London and Whiteley helped us understand the valued insights and answers that advisors can give businesses. We've learnt that a good chunk of their time is spent signposting and fixing problems for their clients.
As one advisor said, "There's the text book journey to export, then there's the reality." The reactive, urgent need for information is clearly a significant one.
One export specialist has asked if we can turn that reactive approach into a more strategic one. Figures show that 33% of businesses exporting goods in 2009 had stopped by 2011, so it certainly seems like digital could play a role here.
Linking up with a market
Our embassies around the world play another important role in the export process. We're currently looking at how we can work with Paris to help them balance bespoke help for businesses, with urgent demands for general information and reactive support.
Keeping the department up to date
As part of the process, we're also keen to keep people within UKTI both aware of, and involved in, our work. Last week we had the chance to present to the Minister for Trade and Investment, Lord Maude, and Managing Director of Trade, Nicola Bolton. They both gave us a clear sense that we're heading in the right direction.
So what's next?
New year, new…
We have a month left of Discovery, before we move towards building something. There are still plenty of people to talk to, and insights to uncover. Two key dates in our diary are workshops to define user and business needs. Watch this space.