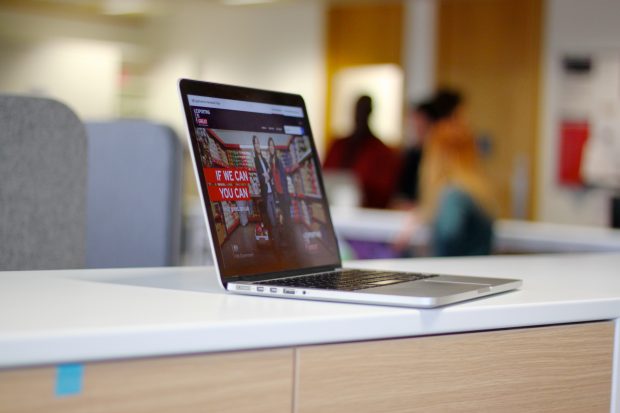 Transformation around a common goal
Great.gov.uk first launched in 2016. It came out of the then newly-formed Department for International Trade and was part of the GREAT marketing campaign that encouraged would-be exporters to sell overseas.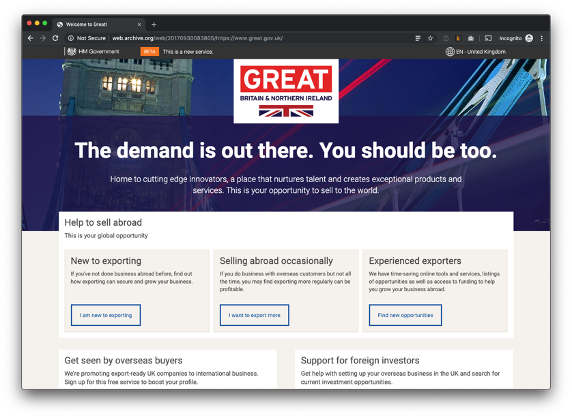 Starting in autumn 2019, we began to articulate a new vision for great.gov.uk and since then, we have honed the offer into something more singular. And we've been transforming into one team united around a common goal: helping people who have never exported before sell, ship and get paid for the first time.
The future of great.gov.uk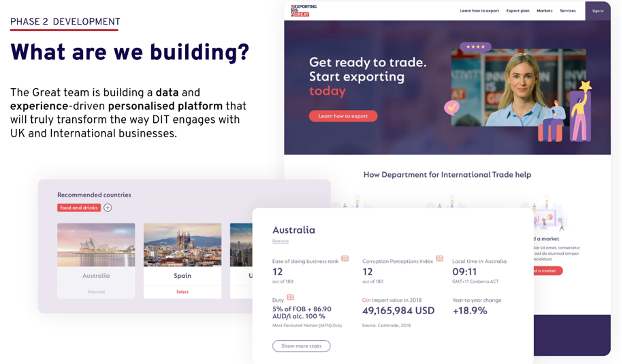 To help us meet expectations of what a platform can do in 2021, we're asking users to create an account, log in and in return we'll give them a compelling reason to stay. This means we can serve them content personalised to their specific circumstances. We do this through a mixture of dynamic and static data inputs. An example of this is in the Export Plan application in great.gov.uk. The platform will pull in trading data from external agencies, and together with DIT's own modelling, can recommend a shortlist of countries for potential exporters, based on what they sell. Inna Hodges, senior product manager explains,
We use data-driven functionalities and cutting-edge technology to help businesses make considered exporting decisions, hopefully guiding them to the selection of the right market.
How we are preparing for the future
Everything comes from the vision and research. Everything we do has its roots in the vision statement we co-created in the team, and with the department.
Having a vision statement that everyone can get behind has been crucial," says James Pallister, content strategist. "Having that shared vision, the core narrative strategy, helps keep focus. It helps unite a multidisciplinary team and communicate across the department.
This was one of the foundational pieces of our transformation. We work in three linked scrum teams and each theme, epic, user story and KPI can be tied back to a word or phrase in that statement.
This year we have been growing our team and skills base. We have built our civil servant capability, reducing reliance on external contractors. Baljit Rakhra, senior delivery manager explains,
When I joined great.gov.uk, I found a welcoming environment to create and grow a high-performing multi-functional agile team. The Digital Data and Technology Directorate has embraced agile culture. This means that our stakeholders understand how we work and that our decision are led by extensive user research and data analysis.
We are always testing, and between the start of 2020 and opening our private beta in October we ran over 90 user testing sessions. With each session we get closer to an engaging, valuable experience for our target audience and achieving value for money for the UK taxpayer.
We are constantly working to improve our services by collaborating with teams across DIT. We know that businesses can make costly mistakes when selling overseas for the first time which can discourage them from future exporting. From our work with the DIT economists, we also know that if we can make a slight uplift in the amount of businesses able to export successfully it will have a big impact on exports which will pay for DIT's investment in the platform several times over. What we create can have a tangible effect on businesses in the UK. That's quite special.
Part of the DIT story
As we go forward, we're having conversations about how we can integrate and work with other DIT and government services and data products.
As a department and a product team we've done our homework and have a very good grasp of the needs and pain points of small businesses. From the beginning we were standing on the shoulders of giants, benefiting from the work done by those who'd gone before.