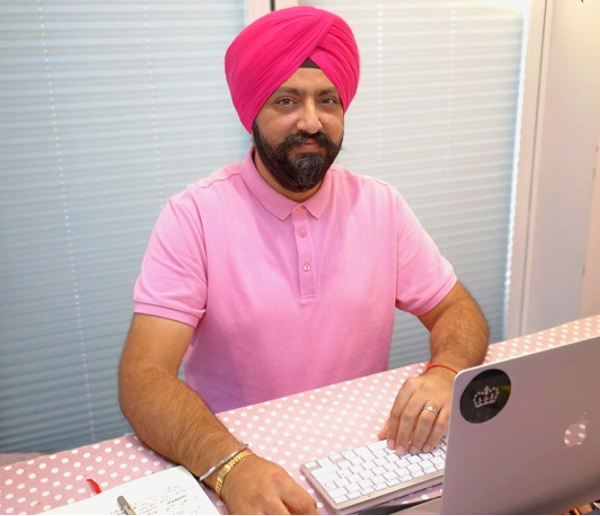 Baljit, Senior Delivery Manager working remotely
What has been your career journey at DIT?
I'm a Senior Delivery Manager for great.gov.uk, in the Digital, Data and Technology (DDaT) team. I began my career at the Department for International Trade (DIT) a year ago, after spending two years in the DDaT Fast Stream leadership programme. I have been working as a civil servant for the past seven years and prior to this I worked in the private sector.
The Civil Service has given me a chance to explore various career options. I have worked as an immigration officer, tax professional, business analyst, smarter working lead and delivery manager in various departments. Thanks to the flexibility provided by the Civil Service, I was able to find the best fit for my personality and career ambition. I really like being able to add value to the life of millions of UK residents we serve.
Can you tell us about the diversity and inclusion networks at DIT?
One of the reasons I was attracted to the role at DIT is the department's diversity and inclusivity. The Civil Service is working towards increasing the diversity in the workplace to represent the society it serves. DIT staff, including ministers, executive committee and senior leaders, are working very hard to achieve this goal and make DIT an outstanding and inclusive place to work.
There are various networks at DIT that you can contribute to. These offer peer support and are open for anyone to join. They influence departmental policy and coordinate issues, which often relate to diversity. I am part of the Black, Asian and Minority Ethnic (BAME) network and the DDaT Diversity and Inclusion network.
How do you promote diversity and inclusion in your work?
I have been working with some of the internal project teams in DDaT to make sure that their work has a positive and equal impact on all employees, including those from diverse backgrounds. We have used this approach in the introduction of the new DDaT pay and capability framework. I worked very closely with the project team and attended their service design sessions. I made sure that when designing their processes, the impact on diversity was considered and there were some positive changes implemented on my recommendations. This is the first time in a department that I have seen how these issues have been thought about and worked through at grass root level.
What projects do you work on?
At DIT, I found a welcoming environment to create and grow a high-performing multi-functional agile team. The DDaT directorate have embraced agile culture and our stakeholders also understand our ways of working. My team is currently working on the next iteration of great.gov.uk backed by extensive user research and data-driven decision-making. I have made accessibility an important aspect of this project to ensure the site caters to users of all abilities.
What does a commitment to diversity and inclusion look like to you?
As a delivery manager, I am responsible for recruiting the development team. In a short span of time I have interviewed over 60 people for various roles. Sometimes the Civil Service application process can be daunting, however at DDaT we have simplified it and have a set format for the interviews. I have also been on the interview panels for various recruitment campaigns run by the department.
I was amazed by the efforts the recruitment team are putting in to make sure that the recruitment process is fair and that we are attracting the right talent from a diverse pool of candidates. By changing the recruitment IT system and the recruitment processes we have increased the number of applicants from diverse backgrounds, which is such an important part of creating a diverse and inclusive team.
You can find more information about our recruitment process as well as our latest job opportunities on our career pages.
Leave a comment on this blog or send any questions to digitaltalent@trade.gov.uk .