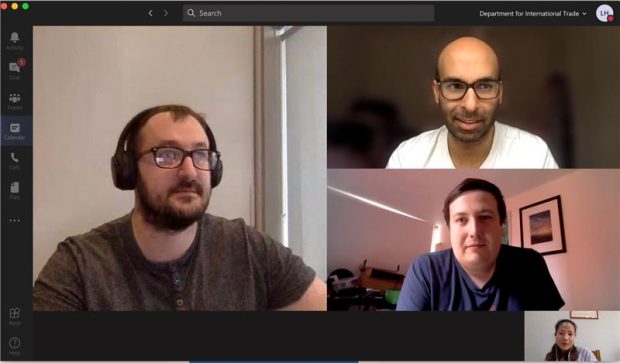 Digital Security Officer, Rashalin Vather explains why DIT is leading the way in cyber security and how his team is constantly improving their ways of working and culture.
A team at the forefront of trade negotiations
Our priorities are to ensure DIT's information and technology is always protected. We protect the organisation so that DIT's business goals and corporate strategy can be fulfilled.
Currently, the cyber security team is at the forefront of ensuring that the UK's trade negotiations can happen securely and safely. This makes it an exciting place to work as you can see your impact and know that you're making a real difference to the department and the UK.
We work well as a team because we understand what our overall goal is in an evolving environment, making sure we input our ideas and suggestions to the technology we use. We work closely with other government departments to collaborate on how we can respond to potential threats. Open communication is crucial to improving DIT's cyber security so we can learn from our peers and limit the impact of threats to the department. Cyber security doesn't stop at rolling out technology and so we also invest time in developing relationships and understanding our users' needs.
Modern and innovative ways of working
We work in an agile way, hold daily team meetings and use cloud tools and products to host group discussions to share our thoughts and ideas. Most notably, we use The Cyber Security Information Sharing Portal (CiSP) daily so that we can communicate with and report issues to other government departments and agencies. We operate in a fast-moving environment; no two days are the same.
Lots of time and energy goes into our ways of working and we're currently embarking on an exciting project to improve how we operate as a team. This will transform how cyber capability is delivered in relation people, process and tools. Our ongoing Security Transformation Programme has already delivered a cyber strategy and is supporting Responsible, Accountable, Supported, Informed, Consulted (RASIC), a role capability model, to clarify roles and responsibilities as we look to expand our team. This is an ongoing programme and the benefits will be seen across the department.
Our 'Cloud First' motto
As DIT is a fairly new government department, we can put our own flair into the technology we use while still following government best practice guidelines. We have an environment made up of 4 different clouds at DIT, and our motto is 'Cloud First'. If we can't find a Software as a Service (SaaS) solution, then we'll host the service in the cloud using Infrastructure as a Service (IaaS) and take it from there.
Working at DIT means you get to work with a variety of people with different backgrounds, all sharing their ideas and experiences. DIT has a flat structure, meaning everyone is accessible and available for a chat. You can have discussions with senior people openly, which is essential in embedding cyber security behaviours within our culture.
When COVID-19 forced us to work remotely, our cyber security wasn't affected. Other employers might start by building their security into the building. Our security is built into our laptops and expanded from there. If you are working remotely from a flat in London or in the Derbyshire Dales, you'll be having the same secure online experience, provided by our team.