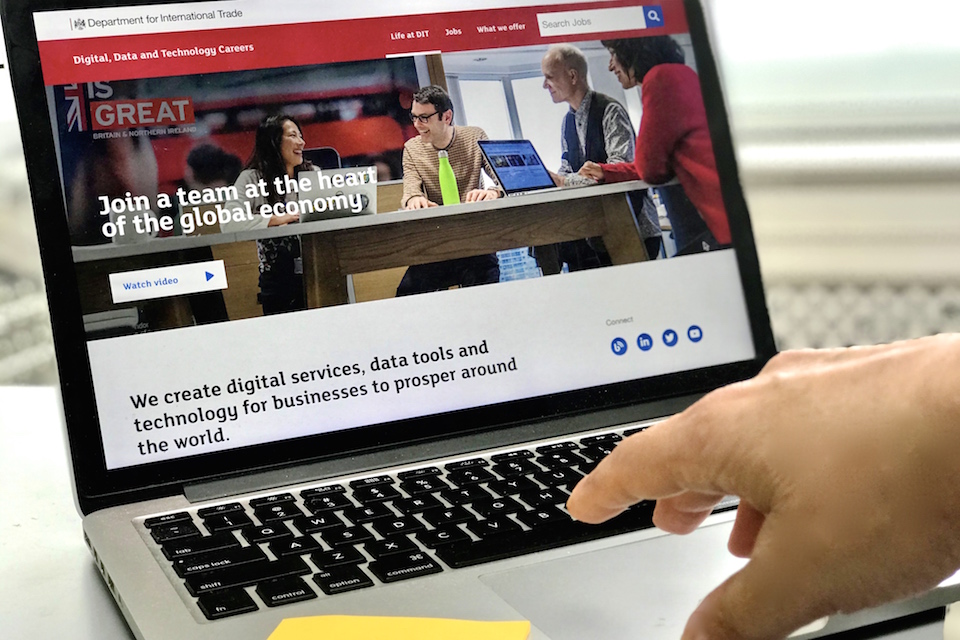 The Digital, Data and Technology (DDaT) team at the Department for International Trade (DIT) offers exciting career opportunities. Are you keen to join us and have you found a job you'd like to apply for? Then this post will help you understand what your job application should look like and give you the best chance of succeeding:
How to start
When submitting a job application candidates are asked to provide:
a current and relevant CV

a statement of suitability (referred to as a cover letter by many organisations)
In the Civil Service, we use Success Profiles, a flexible framework to assess candidates against a range of elements, therefore giving you the opportunity to demonstrate the various skills required to be successful in a specific role. Success Profiles enables a fairer and more inclusive method of recruitment, and helps on finding the right candidate for the role.
The job advert lists a number of criteria that we will use to assess your suitability for the role including the essential, specialist skills and experience as well as key behaviours required for the role. The statement of suitability is your chance to show the panel how you meet the success profile for the role, as sometimes a CV is too generic. This is why you must send both a CV and a statement of suitability to support your application. 
What is a current and relevant CV? 
Send us the most up to date CV including what you are doing in your current role. A CV is usually no more than 2 pages, 3 if you've had extensive (a number of years) relevant industry experience. 
Always highlight the information and achievements relevant to the job you are applying for and how your current responsibilities, skills and experience can be applied to the role.
Address any gaps in employment greater than a month as references will be taken up prior to offering you a formal written contract to work within the Civil Service. We understand that there are many reasons for career breaks, so don't let that put you off from applying.  
What is a statement of suitability?
A statement of suitability is what some organisations may refer to as a cover letter. It is a mandatory part of the application process.
The statement of suitability summarises and highlights why you are applying for a role, your relevant skills and experience and how they match the skills and experience needed to do the job as listed in the advert. This is also your opportunity to highlight your general career ambitions.
The hiring team needs you to demonstrate that you understand what the job involves, in addition to what skills and experience you can bring to the team and your level of interest in joining our DDaT team. Use the statement of suitability to distinguish yourself from many other applications that are often too similar.
How long should your statement of suitability be?
We ask that you keep it short, around 300-500 words, as it is meant to be a summary of your CV and not a copy of it. Some applicants may choose to tweak their CV to highlight the skills and experience they can bring to the specific job they are applying for. Others may keep their CV generic but write a personalised statement of suitability (or cover letter) that addresses and highlights the essential skills, experience and behaviours the role is seeking.
How to write a statement of suitability
The job reference
At the start of your cover letter, make sure to state which job you're applying for, especially if we are advertising roles at different levels, for example Developer / Senior Developer or Senior Product manager/ Lead Product Manager. 
You can do this on a line by itself, for example, 'Regarding: Application for Service Designer position'. You can also do this in the opening paragraph, for example, 'I am writing to apply for the recently advertised Service Designer position'.
Demonstrating how your skills and experience match the job description
Include a brief summary about how your skills and experiences match the job description. A short paragraph or 5-6 bullet points is just fine.
Address each item on the 'essential' list on the job advert. Feel free to also respond to any items on the 'desirable' list.
Remember that if you say you have a skill or experience, you need to show how you've used it or how you acquired it. For example, if you say you've got management or agile delivery skills, do mention some jobs and examples where you've used them. It can also be helpful for you to explain why these mean you're suited to the job.
Find out about our work
You can read our blog channel Digital Trade to find out what our Digital, Data and Technology (DDaT) team does and how we talk about our work. This may also help you to gain insight from teammates who are in a similar role.
Another useful read is this recent in-depth feature about our team in Freshmilk.
You can find more information about our recruitment process as a whole as well as our latest job opportunities on our career pages.
Leave a comment on this blog or send any questions to digitaltalent@trade.gov.uk