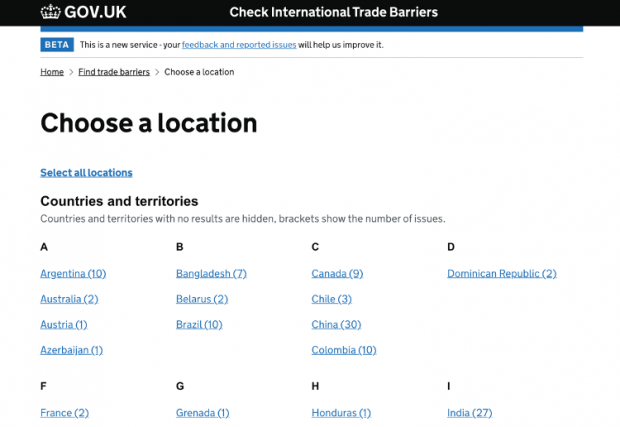 Late in 2020, we launched check for barriers to trading and investing abroad on GOV.UK. A trade barrier is something that slows down or stops a company from exporting goods or services to an overseas market. This service publishes trade barriers so businesses can consult it when making their export plans.
We developed this service as the existing European Commission market access database wouldn't be relevant to UK businesses after the end of the transition period. Our user research showed that UK businesses needed to be able to find trade barriers so that they can avoid potential extra costs when exporting. There was a need to develop a service that would meet this user need, especially as market access is a key priority for DIT.
This service complements other export-focused services, such as the check duties and customs procedures for exporting goods; and helps businesses to make informed decisions.
Collaborating with others to overcome challenges
Trade barriers are reported to DIT by the public through the report a trade barrier service on great.gov.uk, these are then triaged and recorded in our internal market access service. Trade barriers can also be recorded by UK embassies abroad or other government departments. Government staff then use this internal market access service to manage and resolve barriers where possible.
One challenge was making the publishing process simple and user-friendly. We worked closely with our colleagues in the data team to find a solution that allowed us to publish this often confidential and sensitive data in a secure manner. They built a public data gateway that acts as a bridge between our internal and external services. It allows us to publish data without exposing our internal system to outside threats. Now that they have built this solution, it can be re-used across DIT if there is a need to surface data to the public.
Although the service itself was built by our product team, the sheer quantity and complexity of the information DIT holds made publishing these barriers a significant challenge. Over three months the product and policy teams worked with a wide range of stakeholders to ensure that every bit of information in the service added value to the user. These include:
staff in post overseas
devolved administrations
other government departments
Her Majesties Trade Commissioners (HMTCs)
Ensuring quality assurance in our data
A major challenge we faced was assuring the quality of the written information, specifically that it was accurate, clear to the user and free of jargon. Each barrier went through a robust set of quality assurance checks before it was published. This was achieved in 2 ways:
First, the policy team spun up a temporary team to produce the initial content. It liaised with the various officials and government entities who needed to review, amend or agree information as part of the publishing process.
Secondly, each barrier was reviewed by content designer to ensure that the written information met the standard set by the GDS content design guidelines.
In hindsight, it would have been more efficient to incorporate content design into an earlier stage of the publishing process. That is a significant lesson learnt for the future.
Adapting to remote working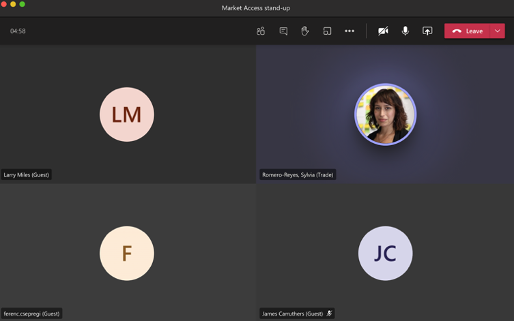 I personally joined DIT in the early stages of the first COVID-19 lockdown, and like many other colleagues, I have not met the team face-to-face. It was certainly an odd way to start a new job. However, DIT's suite of collaboration tools has made remote working a pretty painless experience.
Being confident in our ability to conduct user research and scrum events such as retrospectives online without issue has been fantastic. I can see us continuing to do a lot of work remotely even after we can return to the office. An example of this is the user research we carried out. It showed that the most important filters were 'location' and 'sector'. Some preliminary testing demonstrated that users could quickly locate the specific barriers that they were looking for.
Although we were accustomed to agile ways of working, the flexibility of working this way made the transition to working full-time from home much easier. Most of our research and development was conducted during the COVID-19 lockdown. Although we were initially worried about its impact, we ended up being just as productive by producing a helpful and necessary service for UK exporters.