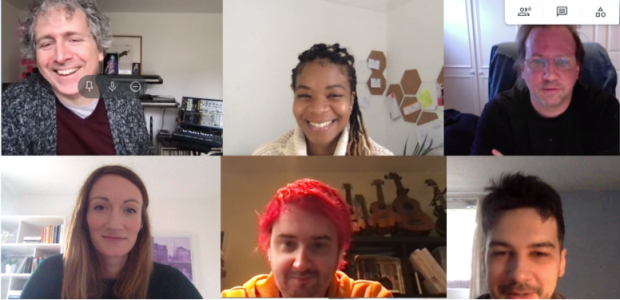 A screenshot of Kate and the team on a virtual call
DDaT's Trading Environment Services Team are responsible for two digital services, Check how to export goods (CHEG) and Trade with the UK (TWUK). These are replacements for European Union (EU) services that are no longer relevant for UK business exporting from the UK or International business exporting to the UK.
My team's objective was to re-design and build these products in time for end of the transition period ensuring they met user needs, technology and data standards.
Check how to export goods and Trade with the UK
CHEG is an online service that helps UK businesses find relevant information on exporting to 160 markets. This includes the status of agreements, tariffs, taxes and regulations such as rules of origin (the criteria needed to determine whether products are eligible for reduced preferential tariffs). These are most of the things that a UK business would need in order to export to another country.
A screenshot of CHEG shows the country page on exporting to Japan from the UK
TWUK looks at the other side of the coin. This service is aimed at traders exporting from other countries to the UK. One of the things we did in the run-up to the end of transition was to add an additional journey for those users who specifically wanted information on how to trade with Northern Ireland (NI). We needed a simple way to explain that seamlessly, providing help at the right point in the user journey.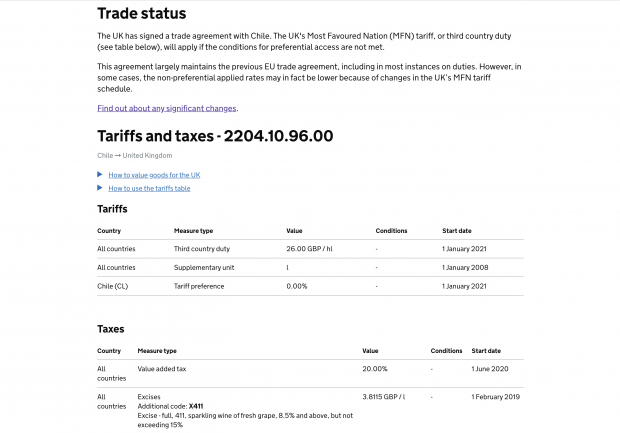 A screenshot of TWUK shows the sparkling wine tariff from Chile
Reaching the 31 December 2020 deadline
CHEG was made available to businesses in early 2020. We updated the service extensively over the last 6 months to reflect the UK's new trading environment at the end of the transition period on 31 December 2020. We recognised the service had many moving parts that needed to be brought up to date. This included:
trade terms for countries that the UK had newly agreed trade agreements with
the corresponding regulations and rules of origin
the duties, customs and tax rates that users would need to know.
Our user group was made up of small and medium-sized enterprises (SMEs) and intermediaries, such as freight forwarders and international trade advisers (ITAs). These users ranged from using the service daily to perhaps just twice a year. We looked closely at our very differing user needs throughout the process and continue to do in 2021. It's very important that the service is iteratively improved and aligned to what users need.
TWUK was also heavily updated for 2021, working closely with HMRC. They provided us with the EU tariff and the UK's tariff data sets so we could show a 'dual tariff' in the NI journey within TWUK. We regularly tested what we had planned to surface with users, to make sure it made sense. Trade can be complex, and we needed to make it as simple as possible. We played back our prototype to stakeholders and other government departments with an interest in the Northern Ireland Protocol, so that we had their buy-in along the way.
Preparing for any outcome
Minimum viable products of CHEG and TWUK were developed for 31 December 2019, but teams were stood down after their private release in February 2020.The current team was formed in early summer 2020 to deliver to this major deadline. Most of us still haven't met in person but this hasn't impacted the way we work. Our communication as a team is pretty effortless but at times, we've missed having an impromptu chat across the desk.
As much as possible, we tried to pre-empt what the new trading guidelines might be in either given scenario, 'negotiated outcome' or 'no negotiated outcome'. To do this, we listed the possible outcomes in a comparable table to see the full extent of what we may be dealing with and what we might have to implement.
On 31 December 2020, we had a big switchover where we took down the old rates and replaced them with the new Most Favoured Nation (MFN) and country-specific preferential rates. We also added in an SME guidance page for all the EU countries on TWUK. This allowed international users to quickly see a 'menu' of general information they may find useful before they looked for their specific goods.
Collaborating with users and stakeholders alike
During the last year, we worked with a phenomenal number of stakeholders and interested parties to align the information. We needed to make sure that we collaborated and took them on the journey with us.
We adopted agile ways of working to deliver the 2 services. During the development of CHEG, 33 stakeholders were spoken to at the discovery phase and 27 during alpha. Once CHEG was live, we conducted an additional 15 in-depth usability sessions with SMEs which led to several improvements to the user journey. Our research with CHEG users continues in 2021.
We collaborated with stakeholders across DIT and other government departments to re-launch the updated services. It was a real joint effort to work towards the 31 December deadline to deliver services that underpin the foundations of the UK's trade infrastructure.