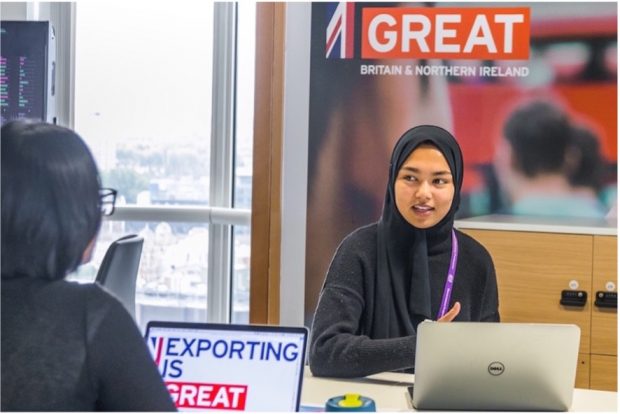 Hameda working from the office, August 2019
I joined the Department for International Trade's (DIT) Digital, Data and Technology (DDaT) team as a Project Delivery Apprentice in 2017. Having just completed my A levels, this was a big step into the world of work and essentially my first job.
When starting my new role, I was extremely excited. I always wanted to move up within the department, work across a variety of projects, and take on new responsibilities in the field of project delivery. I aspired to become a successful manager with strong leadership traits.
Opportunities in DIT
From the beginning of my career, I was fortunate to be working alongside experts in the field. I got great hands-on experience so I could learn on the job. I think that this and my willingness to proactively seek knowledge and experience meant that I was able to progress quickly. Fast forward 4 years and I have completed my Level 4 Project Delivery Programme and I am undertaking a DIT funded degree programme in Chartered Management and Leadership.
I am now a Delivery Manager in DDaT's Data team and manage projects in our internal CRM platform, Data Hub. In this time, I have moved from Executive Officer (EO) to Senior Executive Officer (SEO). I have also worked across multiple complex, yet exciting projects and worked in different roles and DDaT teams. Based on my experience, I wanted to share some career advice.
My career advice
Be a go getter
Stepping out of your comfort zone and taking on new challenges will open up doors for new opportunities and experiences.
If you have the time and capacity, I have always found that asking for additional responsibilities aligned with your career objectives goes a long way. Take some time to evaluate gaps in your learning and areas you would like to develop. Then approach your line manager to discuss future opportunities.
Have a growth mindset
A growth mindset encourages you to embrace challenges and mistakes. The concept of failing fast and learning quickly is one that applies to individuals and not just project teams.
I tend to embody this through self-reflective sessions asking myself what I have done well, what requires improvement and how can I improve. This allows me to be in a constant state of development and growth, through identifying weaknesses and strengths. Most importantly, this allows me to identify the next course of action to do better and be better.
The early bird gets the worm
Remember the saying? It definitely holds true in my experience. Being punctual, dependable, and getting projects done on time or early while not compromising on quality are important skills. But beyond that, be the one who raises their hand to take on or assist on a tough task when you can.
It is not all about you
In my experience, career growth comes into effect when we start looking and contributing to the bigger picture. Look at things from a strategic standpoint and ask yourself how you can add value.
Look big
Sometimes it's difficult to see the big picture when you are mired in the details. It is important to think holistically about how each piece of work you oversee supports the overarching goals of the department.
Get curious
Looking is not the same as knowing. So constantly look to understand why and then question your assumptions. If clarity is needed, don't be afraid to seek it!
Reflections on my career journey
As clichéd as it sounds, I have realised that you get out what you put in. The opportunities are there for everyone including apprentices. It is imperative that we are proactive and put the effort into our own development.
I feel privileged to have worked with many empowering and inspiring people throughout my 4 years here. Each colleague has helped sow the seeds of knowledge, confidence and resilience.
For me personally, I feel that DDaT has a culture where we uplift each other, help challenge one another to grow and deliver results. We celebrate successes whether they're big or small. More importantly, we work well to understand lessons learnt and ways we can improve.