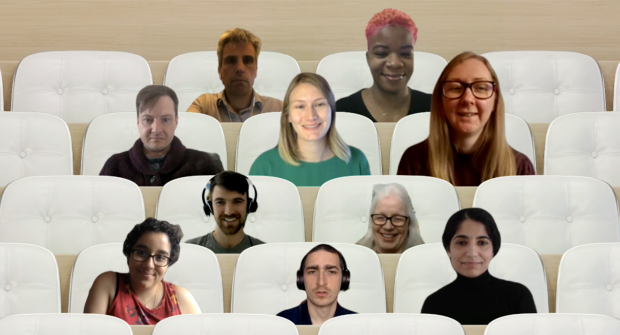 Members of the user research community at DIT
User researchers help our teams develop a deep understanding of the people (whether citizens, businesses, or government) who use our services. Their findings enable our teams to design and deliver better services quickly, with less risk, and at lower cost, in a way that puts our users first.
On a day-to-day basis, a user researcher is usually focused on identifying and evidencing user needs and ensures that services or products meet those needs. We design and develop schemes of research to achieve this. We often involve the whole team in these activities, such as running interviews, sending out surveys, conducting usability tests, or a host of other methodologies.
Our user research community of practice
Currently, the user research (UR) profession is a small and dynamic team at the Department for International Trade (DIT). We are a mix of civil servants and contractors, with diverse professional backgrounds. This gives us a rich variety of knowledge and experiences to draw from and fuels the creativity that is essential to designing engaging research. Researchers are key members of agile teams, and in DIT they are supported by the UR Community of Practice (CoP).
The User Research Community of Practice is a group of researchers who meet regularly at community hour. The DIT UR community started off as a small informal group meeting once every week, and soon evolved into a more formal structure as the number of researchers grew and DIT matured.
The community has 2 main priorities, to:
ensure everyone gets value from belonging to the community
keep in touch with departmental and directorate strategies.
These 2 priorities keep us grounded and allow us to effectively help user researchers reach their goals.
Supporting user researchers through our community
The community provides support in a range of ways; we try to be flexible, and generous with our collective knowledge.
For new starters, we offer a comprehensive onboarding session. This sets out our community's ways of working and mission, as well as explaining the processes and obligations which DIT's researchers need to follow (for example, around GDPR). We also take this opportunity to explain how new joiners can access existing research, templates, and resources.
As a community, we engage in joint activities and discussions and share information, for example, on projects we are working on, learning from training and resources. We have a very active Microsoft Teams channel where we can stay in touch. This ensures we are supported in our work, and able to access opportunities to grow as practitioners. We often undertake team training with external UR experts. Each researcher has a dedicated budget for learning and development, to ensure they can take advantage of opportunities that will help them build their skills.
To provide regular touchpoints we meet once a week for community hour. This is an opportunity to share our ideas, build confidence and benefit from peer review. We operate a rotating host/presenter system, so everyone gets the chance to participate fully, and sessions range from presentations on different methodologies, to project retros.
For contractors, attending community hour it is an opportunity to fulfill their contractual obligation to upskill civil servants, and for civil servants, participating actively in the community is one of their objectives.
Projects we are currently working on
Researchers can work on a wide range of interesting and important projects that contribute towards DIT and Digital Data and Technology (DDaT)'s strategies. The work we undertake reflects the role DIT plays in helping companies to trade internationally, and all the challenges associated with this work, that can be addressed by both policy and delivery.
User researchers also perform research to ensure DIT is working as effectively as possible, and empowering staff to deliver quality services. This includes work across a range of internal services, such as our internal customer relationship management (CRM) tools and content development, and external services such as great.gov.uk.
Our work on great.gov.uk includes
helping exporters learn how to access new markets and information about exporting
how to pursue opportunities where there are free trade agreements post-EU Exit
how to build an export plan
We have run extensive research with Small and Medium Enterprises (SMEs) to discover the challenges they encounter when exporting. We have also learnt about the type of information and learning opportunities these companies need to successfully export. We also explore the different ways we can address those challenges and support businesses, either through new digital services or by improving our existing offer.
What's next for UR at DIT?
The UR profession at DIT is in an exciting period of growth and development. We are looking to expand our team with lots of exciting new roles, including a Head of Profession and SEO roles. Having a Head of Profession will help to accelerate our maturity as a profession.
To support this, we are undertaking continuous research into how the community works. This will mean we can keep building and improving on what we do, and help our practitioners develop their skills through formal training and peer support.